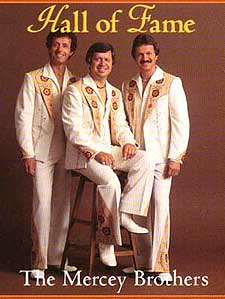 Mercey Publishing

"Mercey Publishing" represents a select number of Canadian Country Music Publishers, namely, Mercey Brothers Publishing Company; Elmira Music; and Larry Mercey Music.
Considering the number of years the companies have been in operation, they are not large catalogues, ... but, "quality copyrights" rather than a quantity of mediocre material.
We only published songs we feel have commercial possibilities. Over the years a number of "Top Ten Records" were generated from these quality catalogues and became recognized as "Canadian Country Gold". For many "their time has come again". The catalogues represent a number of songs written by Terry Carisse and Bruce Rawlins; Marie Bottrell, Lee Bach, Gord Heins, Darrell Scott, and Steve Wilkinson, just to name a few.
If you are considering a recording session, please take a few minutes to listen to a few sound-bites from the titles listed below. Then, if you hear a song or a style you like, fill out the order form. We will mail you out a CD or send you an MP3's with a variety of the style of material you have chosen, along with lyric sheets.
HERE ARE SOME OF OUR SUCCESSES:
(Choose the file type you prefer and click for a listen.)